Dr. Ernest Groce was born in 1943 at Chickamauga, GA, as one of six children to Roy & Leafy Groce. His Dad was called away to World War II that same year. Dr. Groce grew up working on a farm, picking cotton, cutting pulpwood, and later worked in a cotton mill and a carpet mill. This experience taught him a good work ethic.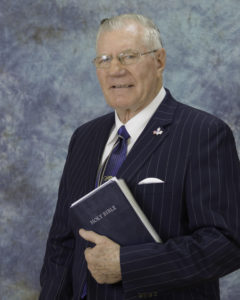 In the fifties he started a boxing career that lasted almost 20 years, having a record of 73 wins and 3 losses. He also built and drove race cars for many years while hunting direction in his life. In 1968 his life changed as he realized his life lacked purpose. He turned his life to Christ and the Christian faith.
Dr. Groce began his undergraduate work at Tennessee Temple University and received a B.A. degree in Clinical Psychology. He then pursued his master's and doctorate work at Middle Tennessee State University, also studying at Moody Bible Institute, Lakeview Baptist Seminary, and Bowling Green Baptist College.
Pastor Groce served in the Navy as a Military Retention Counselor and received an honorable discharge from the U.S. Navy. He has also served as the Chaplin for the Walker County Jail in LaFayette, GA
Presently, Dr. Groce is a counselor and the senior pastor at Victory Baptist Church in Rossville, GA. Dr. Groce and his wife Wanda have been married for 56 years and have 3 daughters and 10 grandchildren.